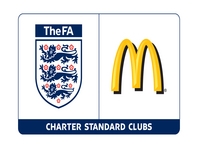 Welcome to Westland Sports FC, a Chartered Standard Club

based in Yeovil, Somerset.

Members of:

The Dorset Premier League

The Dorset League Division 1 The Dorset League (U18) Youth Division

Home Ground: Alvington Sports Ground, Alvington Lane, Yeovil, Somerset, BA22 8UX

**Training Tuesdays @ 6.30 pm **

DORSET SENIOR LEAGUE WINNERS, MAY 2014
Westland Sports FC - a Community Club - for the latest club chat follow us on

**************
DPL LEAGUE TABLE
SEASON 2014/15
| | | | |
| --- | --- | --- | --- |
| Pos | Team | Pld | Pts |
| 1 | Merley Cobham Sports | 15 | 40 |
| 2 | Portland Utd | 15 | 39 |
| 3 | Hamworthy Recreation | 13 | 33 |
| 4 | Parley Sports | 16 | 33 |
| 5 | Weymouth Reserves | 17 | 32 |
| 6 | Shaftesbury Town | 16 | 28 |
| 7 | Mere Town | 15 | 25 |
| 8 | Wareham Rangers | 14 | 22 |
| 9 | WESTLAND SPORTS | 15 | 20 |
| 10 | Sherborne Town Res | 14 | 18 |
| 11 | Bridport Reserves | 14 | 17 |
| 12 | Swanage Town & Herston | 11 | 16 |
| 13 | Blandford Utd | 15 | 16 |
| 14 | Cranborne | 17 | 14 |
| 15 | Tintinhull | 14 | 12 |
| 16 | Sturminster Marshall | 15 | 9 |
| 17 | Hamworthy Utd Reserves | 14 | 6 |
| 17 | Poole Borough | 16 | 4 |
(UPDATED 21st Nov)
**************
1st TEAM GOALSCORERS
SEASON 2014/15
| | |
| --- | --- |
| Player | Goals |
| Leo Hayward | 13 |
| Szymon Matuszewski | 8 |
| Josh Payne | 7 |
| Louis Irwin | 5 |
| Ant Herrin | 1 |
| Sam Carney | 1 |
| Will Ireland | 1 |
(UPDATED 21st Nov)
**************
DORSET LEAGUE DIV.1 SEASON 2014/15
| | | | |
| --- | --- | --- | --- |
| Pos | Team | Pld | Pts |
| 1 | Kangaroos | 8 | 20 |
| 2 | Stourpaine | 8 | 20 |
| 3 | WESTLAND SPORTS RES | 7 | 14 |
| 4 | Lytchett Red Triangle | 7 | 14 |
| 5 | Canford Utd | 8 | 12 |
| 6 | Poole Borough Res | 7 | 7 |
| 7 | Bere Regis | 6 | 5 |
| 8 | Poundbury Rovers | 6 | 4 |
| 9 | Shaftesbury Town Res | 7 | 4 |
| 10 | Piddletrenthide Spartans Res | 4 | 1 |
| 11 | Swanage Town & Herston Res | 6 | 0 |
(UPDATED 24th Nov
**************
RESERVE TEAM GOALSCORERS
SEASON 2014/15
| | |
| --- | --- |
| Player | Goals |
| Steve Ormrod | 7 |
| Jamie Green | 5 |
| Dave Beats | 3 |
| Pete Bray | 3 |
| Mike Rousell | 3 |
| Steve Rousell | 2 |
| Sam Plumley | 2 |
| Joe Jarvis | 1 |
| Wes Gullin | 1 |
| Charlie Gay | 1 |
| Nat Carney | 1 |
| Sol Carney | 1 |
| | |
| | |
(UPDATED 24th Nov)
**************
YOUTH LEAGUE TABLE SEASON 2014/15
| | | | |
| --- | --- | --- | --- |
| Pos | Team | Pld | Pts |
| 1 | Hamworthy Utd | 7 | 18 |
| 2 | WESTLAND SPORTS | 8 | 13 |
| 3 | Bournemouth Poppies | 6 | 10 |
| 4 | Corfe Mullen Utd Juniors | 6 | 6 |
| 5 | Rossgarth | 8 | 6 |
| 6 | Bridport | 5 | 5 |
| 7 | Parley Sports | 4 | 5 |
(UPDATED 24th Nov )
**************
YOUTH TEAM GOALSCORERS
SEASON 2014/15
| | |
| --- | --- |
| Player | Goals |
| Sam Watts | 7 |
| Dan Quirke | 6 |
| James Budden | 5 |
| Adam Pullen | 3 |
| Aron Wallis | 2 |
| Liam Stobbs | 2 |
| Jake Cowie | 1 |
| Scott Morgan | 1 |
| Steve Flynn | 1 |
| Johnny Ireland | 1 |
| | |
(UPDATED 24th Nov)
**************
HEADLINES…………….
DECEMBER FIXTURES
Wednesday 26th November..........the fixtures for all three sides over the holiday period have now been released and can be accessed via the 'Fixtures' tab. The reserves and the Under 18s both have a couple of weeks off but the first team continue right through without a break which is good news. The schedule includes a tasty holiday derby against Sherborne Town Reserves at Alvington on the 27th to look forward to.
GOOD WIN FOR UNDER 18s
Monday 24th November..........with the first team fixture on saturday postponed due to a waterlogged pitch, it was left to the Youth team to give us our weekly dose of football. They responded with a fine 5-1 victory at Corfe Mullen to move into 2nd place in the league table. Sports were a bit slow to get going but a quick 1-2 on the half hour mark by JAMES BUDDEN and ADAM PULLEN put us in front at half-time. A quick goal 3 minutes into the second half by LIAM STOBBS put us three up but a soft penalty conceded by keeper George Irvine gave Corfe Mullem just a glimmer of hope. Westlands continued to dominate the game though and 2 late goals from SAM WATTS (2) made the points safe.
MIXED DAY FOR SPORTS
Friday 21st November...........it was one win and one defeat for Sports last weekend with the Youth side having no fixture. The first team travelled to Parley and went down 2-1 in an incident filled match that saw us play the last 40 minutes with 10 men. With Westlands 1-0 down at the break, and Rob Wheeler dismissed 5 minutes into the second half for talking out of turn, things looked bleak. However, Sports keeper George Irvine came to our rescue, saving 2 penalties, and although LEO HAYWARD equalised, we just failed to hold out with Parley scoring the winner deep into injury time.
Meanwhile down at Piddletrenthide our reserves thrashed Spartans Reserves by 12 goals to 0. Pointless exercise really but DAVE BEATS (3), STEVE ROUSELL (2), MIKE ROUSELL (2), PETE BRAY (2), SAM PLUMLEY, NAT CARNEY, & SOL CARNEY made sure of the points.