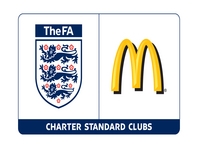 Welcome to Westland Sports FC, a Chartered Standard Club

based in Yeovil, Somerset.

Members of:

The Dorset Premier League

The Dorset League Division 1 The Dorset League (U18) Youth Division

Home Ground: Alvington Sports Ground, Alvington Lane, Yeovil, Somerset, BA22 8UX

**Training Tuesdays @ 6.30 pm **

DORSET SENIOR LEAGUE WINNERS, MAY 2014
Westland Sports FC - a Community Club - for the latest club chat follow us on

**************
DPL LEAGUE TABLE
SEASON 2014/15
| | | | |
| --- | --- | --- | --- |
| Pos | Team | Pld | Pts |
| 1 | Merley Cobham Sports | 14 | 37 |
| 2 | Portland Utd | 12 | 33 |
| 3 | Hamworthy Recreation | 13 | 33 |
| 4 | Parley Sports | 13 | 30 |
| 5 | Shaftesbury Town | 13 | 24 |
| 6 | Weymouth Reserves | 14 | 23 |
| 7 | Mere Town | 13 | 21 |
| 8 | WESTLAND SPORTS | 13 | 20 |
| 9 | Wareham Rangers | 13 | 19 |
| 10 | Bridport Reserves | 13 | 17 |
| 11 | Sherborne Town Res | 13 | 15 |
| 12 | Swanage Town & Herston | 10 | 13 |
| 13 | Tintinhull | 12 | 12 |
| 14 | Cranborne | 14 | 11 |
| 15 | Blandford Utd | 13 | 10 |
| 16 | Sturminster Marshall | 13 | 9 |
| 17 | Poole Borough | 14 | 4 |
| 18 | Hamworthy Utd Reserves | 12 | 3 |
(UPDATED 27th Oct)
**************
1st TEAM GOALSCORERS
SEASON 2014/15
| | |
| --- | --- |
| Player | Goals |
| Leo Hayward | 9 |
| Josh Payne | 7 |
| Szymon Matuszewski | 6 |
| Louis Irwin | 5 |
| Ant Herrin | 1 |
| Sam Carney | 1 |
| Will Ireland | 1 |
(UPDATED 27th Oct)
**************
DORSET LEAGUE DIV.1 SEASON 2014/15
| | | | |
| --- | --- | --- | --- |
| Pos | Team | Pld | Pts |
| 1 | Lytchett Red Triangle | 7 | 14 |
| 2 | Kangaroos | 5 | 13 |
| 3 | Stourpaine | 5 | 13 |
| 4 | Canford Utd | 6 | 9 |
| 5 | WESTLAND SPORTS RES | 5 | 8 |
| 6 | Poole Borough Res | 6 | 7 |
| 7 | Bere Regis | 4 | 4 |
| 8 | Shaftesbury Town Res | 4 | 2 |
| 9 | Piddletrenthide Spartans Res | 2 | 1 |
| 10 | Poundbury Rovers | 3 | 0 |
| 11 | Swanage Town & Herston Res | 5 | 0 |
(UPDATED 27th Oct)
**************
RESERVE TEAM GOALSCORERS
SEASON 2014/15
| | |
| --- | --- |
| Player | Goals |
| Jamie Green | 6 |
| Steve Ormrod | 5 |
| Joe Jarvis | 1 |
| Mike Rousell | 1 |
| Sam Plumley | 1 |
| Wes Gullin | 1 |
| Pete Bray | 1 |
| | |
| | |
(UPDATED 27th Oct)
**************
YOUTH LEAGUE TABLE SEASON 2014/15
| | | | |
| --- | --- | --- | --- |
| Pos | Team | Pld | Pts |
| 1 | Hamworthy Utd | 6 | 15 |
| 2 | Bournemouth Poppies | 6 | 10 |
| 3 | WESTLAND SPORTS | 6 | 10 |
| 4 | Corfe Mullen Utd Juniors | 5 | 6 |
| 5 | Rossgarth | 7 | 6 |
| 6 | Bridport | 5 | 5 |
| 7 | Parley Sports | 3 | 2 |
(UPDATED 27th Oct )
**************
YOUTH TEAM GOALSCORERS
SEASON 2014/15
| | |
| --- | --- |
| Player | Goals |
| Dan Quirke | 6 |
| Sam Watts | 3 |
| James Budden | 3 |
| Aron Wallis | 2 |
| Jake Cowie | 1 |
| Scott Morgan | 1 |
| Adam Pullen | 1 |
| Liam Stobbs | 1 |
| | |
| | |
| | |
(UPDATED 27th Oct)
**************
HEADLINES…………….
WEEKEND PREVIEW
Friday 31st October..........this weekend its cup ties for two of our sides with the first team taking on STOCKWOOD GREEN at Alvington in the Somerset Senior Cup and the Under 18s playing away to BRIDPORT in the Dorset FA Youth Cup. On saturday the visit of Stockwood Green in the first round of the Senior Cup should be interesting. Our visitors hail from Bristol and play in the Somerset County League Premier Division. They got off to a bad start in the league this season but have recovered a bit of form lately as a 5-0 drubbing of Ilminster Town two weeks ago showed. These are always hard matches but with home advantage I would hope Westlands could edge through this round. Its always nice to have a good run in this cup as it takes you to new places and we have a good record to protect having been to the final three times in the last 10 years, winning the trophy twice. I would hope the lads are up for it tomorrow and it should be an excellent game. Now the clocks have gone back the kick-off's are early now and this one starts at 1.45 pm.
Also on saturday the reserves have a Dorset Div 1 league match away to Poundbury Rovers. Our opponents have only played three times this season and have lost all three so it's hopefully a game we can win. Sports drew again last week so we really need three points this week if we are to stay in touch with the leaders. As usual a lot will depend on who is available but whoever plays we will expect a good result and three valuable points.
On sunday its a trip to Beaminster for the Under 18 side to play Bridport in the county cup. We drew with Bridport 3-3 at their place early in the season in a tough league match so we can expect nothing less this time round. I'm sure the lads will give it all they've got this week and I am confident we can get a result. It's a 1.30 pm kick-off for this one.
YOUTH TEAM LOSE
Monday 27th October..........our Under 18 side made the long trip to Bournemouth yesterday and then produced a lack-lustre display to lose 1-0 to Bournemouth Poppies. Sports never got going and a goal midway through the second half sealed our fate.
DRAWS ALL ROUND
Saturday 25th October..........it was stalemate for both Westlands sides today with the first team drawing 1-1 with Weymouth Reserves at Alvington while the reserves returned from Poole with a point after a 2-2 draw with Canford Utd.
At Alvington, Sports took the lead in the 42nd minute through LOUIS IRWIN but in the second half allowed Weymouth to dominate and the equaliser eventually came in the 85th minute. Down at Poole STEVE ORMROD and PETER BRAY were on target as a scratch Westlands side gained a good point. Weymouth match report