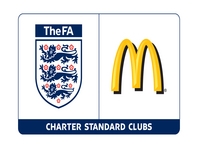 Welcome to Westland Sports FC, a Chartered Standard Club

based in Yeovil, Somerset.

Members of:

The Dorset Premier League

The Dorset League Division 1 The Dorset League (U18) Youth Division

Home Ground: Alvington Sports Ground, Alvington Lane, Yeovil, Somerset, BA22 8UX

**Training Tuesdays @ 6.30 pm **

DORSET SENIOR LEAGUE WINNERS, MAY 2014
Westland Sports FC - a Community Club - for the latest club chat follow us on

**************
DPL LEAGUE TABLE
SEASON 2014/15
| | | | |
| --- | --- | --- | --- |
| Pos | Team | Pld | Pts |
| 1 | Merley Cobham Sports | 13 | 34 |
| 2 | Hamworthy Recreation | 12 | 33 |
| 3 | Portland Utd | 11 | 30 |
| 4 | Parley Sports | 12 | 29 |
| 5 | Weymouth Reserves | 13 | 22 |
| 6 | Shaftesbury Town | 12 | 21 |
| 7 | WESTLAND SPORTS | 12 | 19 |
| 8 | Wareham Rangers | 13 | 19 |
| 9 | Mere Town | 12 | 18 |
| 10 | Sherborne Town Res | 12 | 15 |
| 11 | Bridport Reserves | 12 | 14 |
| 12 | Swanage Town & Herston | 10 | 13 |
| 13 | Tintinhull | 11 | 11 |
| 14 | Cranborne | 13 | 11 |
| 15 | Sturminster Marshall | 12 | 9 |
| 16 | Blandford Utd | 11 | 7 |
| 17 | Poole Borough | 13 | 4 |
| 18 | Hamworthy Utd Reserves | 11 | 3 |
(UPDATED 20th Oct)
**************
1st TEAM GOALSCORERS
SEASON 2014/15
| | |
| --- | --- |
| Player | Goals |
| Leo Hayward | 9 |
| Josh Payne | 7 |
| Szymon Matuszewski | 6 |
| Louis Irwin | 4 |
| Ant Herrin | 1 |
| Sam Carney | 1 |
| Will Ireland | 1 |
(UPDATED 20th Oct)
**************
DORSET LEAGUE DIV.1 SEASON 2014/15
| | | | |
| --- | --- | --- | --- |
| Pos | Team | Pld | Pts |
| 1 | Lytchett Red Triangle | 6 | 14 |
| 2 | Kangaroos | 4 | 10 |
| 3 | Stourpaine | 4 | 10 |
| 4 | Canford Utd | 5 | 8 |
| 5 | Poole Borough Res | 5 | 7 |
| 5 | WESTLAND SPORTS RES | 4 | 7 |
| 7 | Bere Regis | 4 | 4 |
| 8 | Shaftesbury Town Res | 4 | 2 |
| 9 | Piddletrenthide Spartans Res | 2 | 1 |
| 10 | Poundbury Rovers | 3 | 0 |
| 11 | Swanage Town & Herston Res | 5 | 0 |
(UPDATED 20th Oct)
**************
RESERVE TEAM GOALSCORERS
SEASON 2014/15
| | |
| --- | --- |
| Player | Goals |
| Jamie Green | 6 |
| Steve Ormrod | 4 |
| Joe Jarvis | 1 |
| Mike Rousell | 1 |
| Sam Plumley | 1 |
| Wes Gullin | 1 |
| | |
| | |
| | |
(UPDATED 20th Oct)
**************
YOUTH LEAGUE TABLE SEASON 2014/15
| | | | |
| --- | --- | --- | --- |
| Pos | Team | Pld | Pts |
| 1 | Hamworthy Utd | 5 | 12 |
| 2 | WESTLAND SPORTS | 5 | 10 |
| 3 | Bournemouth Poppies | 5 | 7 |
| 4 | Corfe Mullen Utd Juniors | 5 | 6 |
| 5 | Rossgarth | 6 | 6 |
| 6 | Bridport | 5 | 5 |
| 7 | Parley Sports | 3 | 2 |
(UPDATED 20th Oct )
**************
YOUTH TEAM GOALSCORERS
SEASON 2014/15
| | |
| --- | --- |
| Player | Goals |
| Dan Quirke | 6 |
| Sam Watts | 3 |
| James Budden | 3 |
| Aron Wallis | 2 |
| Jake Cowie | 1 |
| Scott Morgan | 1 |
| Adam Pullen | 1 |
| Liam Stobbs | 1 |
| | |
| | |
| | |
(UPDATED 20th Oct)
**************
HEADLINES…………….
DPL FIXTURES RELEASED
Monday 20th October..........the November fixtures for the Dorset Premier League have been released and can be viewed via the 'Fixtures' tab. Three away games, including tough trips to Portland and Parley are on the agenda so an interesting month which kicks off, of couse, with the Somerset Senior Cup tie at home to Stockwood Green on the 1st.
10 MAN SPORTS LOSE OUT IN EXTRA TIME
Saturday 18th October............Sports were beaten 2-1 by Hamworthy Rec in the first round of the DPL Cup at Alvington this afternoon. It was a tense battle with LOUIS IRWIN putting Sports ahead after half an hour but Hamworthy made it 1-1 soon after.
As it was still 1-1 after 90 minutes we moved into extra time with the promise of penalties to follow. It was a game which threatened to boil over as the tension increased and, unfortunately for us, it was Westlands player manager Stu Smith who fell foul of the ref and saw a red card. 10 man Sports continued to battle on against the odds and were harshly treated when the ref awarded a soft penalty and Hamworthy notched the winning goal. Full match report
CUP DRAWS
Monday 6th October..........two more cup draws have been made and the good news for the first team is a home draw against STOCKWOOD GREEN in the second round of the Somerset Senior Cup. Stockwood Green play in the Premier Division of the Somerset County League so will provide stiff opposition and a good match is in prospect.
Not such good news for the Under 18s in the Dorset FA Youth (Under 18) Cup 2nd round with an away tie at BRIDPORT, but we have already played them away in a league match and came away with a draw so another good match is on the cards.