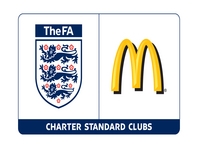 Welcome to Westland Sports FC, a Chartered Standard Club

based in Yeovil, Somerset.

Members of:

The Dorset Premier League

The Dorset League Division 1 The Dorset League (U18) Youth Division

Home Ground: Alvington Sports Ground, Alvington Lane, Yeovil, Somerset, BA22 8UX

**Training Tuesdays @ 6.30 pm **

DORSET SENIOR LEAGUE WINNERS, MAY 2014
Westland Sports FC - a Community Club - for the latest club chat follow us on

**************
DPL LEAGUE TABLE
SEASON 2014/15
| | | | |
| --- | --- | --- | --- |
| Pos | Team | Pld | Pts |
| 1 | Merley Cobham Sports | 19 | 49 |
| 2 | Portland Utd | 18 | 45 |
| 3 | Parley Sports | 20 | 42 |
| 4 | Hamworthy Recreation | 16 | 40 |
| 5 | Weymouth Reserves | 20 | 39 |
| 6 | Shaftesbury Town | 19 | 34 |
| 7 | Mere Town | 19 | 29 |
| 8 | Wareham Rangers | 17 | 29 |
| 9 | WESTLAND SPORTS | 17 | 23 |
| 10 | Sherborne Town Res | 17 | 21 |
| 11 | Bridport Reserves | 17 | 20 |
| 12 | Swanage Town & Herston | 14 | 19 |
| 13 | Blandford Utd | 19 | 19 |
| 14 | Cranborne | 19 | 14 |
| 15 | Tintinhull | 18 | 13 |
| 16 | Sturminster Marshall | 19 | 13 |
| 17 | Poole Borough | 19 | 10 |
| 18 | Hamworthy Utd Reserves | 17 | 9 |
(UPDATED 15th Dec)
**************
1st TEAM GOALSCORERS
SEASON 2014/15
| | |
| --- | --- |
| Player | Goals |
| Leo Hayward | 18 |
| Szymon Matuszewski | 8 |
| Josh Payne | 8 |
| Louis Irwin | 6 |
| Ant Herrin | 1 |
| Sam Carney | 1 |
| Will Ireland | 1 |
| Sam Watts | 1 |
(UPDATED 15th Dec)
**************
DORSET LEAGUE DIV.1 SEASON 2014/15
| | | | |
| --- | --- | --- | --- |
| Pos | Team | Pld | Pts |
| 1 | Kangaroos | 10 | 23 |
| 2 | Stourpaine | 9 | 23 |
| 3 | WESTLAND SPORTS RES | 9 | 20 |
| 4 | Lytchett Red Triangle | 8 | 17 |
| 5 | Canford Utd | 10 | 15 |
| 6 | Bere Regis | 9 | 9 |
| 7 | Shaftesbury Town Res | 10 | 9 |
| 8 | Poole Borough Res | 8 | 7 |
| 9 | Poundbury Rovers | 9 | 4 |
| 10 | Swanage Town & Herston Res | 8 | 4 |
| 11 | Piddletrenthide Spartans Res | 6 | 1 |
(UPDATED 15th Dec)
**************
RESERVE TEAM GOALSCORERS
SEASON 2014/15
| | |
| --- | --- |
| Player | Goals |
| Steve Ormrod | 7 |
| Jamie Green | 6 |
| Dave Beats | 6 |
| Mike Rousell | 4 |
| Pete Bray | 3 |
| Steve Rousell | 3 |
| Joe Jarvis | 3 |
| Sam Plumley | 2 |
| Charlie Gay | 2 |
| Jamie Bell | 2 |
| Wes Gullin | 2 |
| Nat Carney | 1 |
| Sol Carney | 1 |
| Sam King | 1 |
| Dan Thompson | 1 |
(UPDATED 15th Dec)
**************
YOUTH LEAGUE TABLE SEASON 2014/15
| | | | |
| --- | --- | --- | --- |
| Pos | Team | Pld | Pts |
| 1 | Hamworthy Utd | 9 | 24 |
| 2 | WESTLAND SPORTS | 10 | 17 |
| 3 | Bournemouth Poppies | 8 | 11 |
| 4 | Bridport | 8 | 11 |
| 5 | Corfe Mullen Utd Juniors | 8 | 9 |
| 6 | Rossgarth | 10 | 7 |
| 7 | Parley Sports | 7 | 6 |
(UPDATED 15th Dec)
**************
YOUTH TEAM GOALSCORERS
SEASON 2014/15
| | |
| --- | --- |
| Player | Goals |
| James Budden | 10 |
| Sam Watts | 9 |
| Adam Pullen | 7 |
| Dan Quirke | 6 |
| Aron Wallis | 3 |
| Liam Stobbs | 2 |
| Steve Flynn | 2 |
| Jake Cowie | 1 |
| Scott Morgan | 1 |
| Johnny Ireland | 1 |
| OG | 1 |
(UPDATED 15th Dec)
**************
HEADLINES…………….
JANUARY FIXTURE
Friday 19th December..........all three leagues have now issued their fixtures for the month of January and these can be viewed via the 'Fixtures' tab.
WEEKEND PREVIEW
Thursday 18th December..........with the Dorset League having a christmas break, we only have one fixture this weekend. That's in the Dorset Premier League and sees our first team take on SWANAGE TOWN & HERSTON at Alvington Lane. You can see from the league table opposite Swanage lie three places below us in the league table but they have played three less games so that could be a false position. They had a decent away win at Cranborne last saturday so they should come to Yeovil in confident mood and we will have to be switched on if we want to win this one. Westlands have been disappointing recently but looked more like the Sports of old when winning at Blandford last week so a good contest is on the cards. Sports owe their supporters a decent performance and if we can put the effort in like last week I have every confidence we can win this one. Don't forget it's a 2.00 pm kick-off.
YOUTH TEAM WIN
Sunday 14th December..........our Under 18 team made it a winning weekend for Westlands when they defeated Bournemouth Poppies 5-2 at Alvington this afternoon in the Dorset County Youth League. Despite going a goal down Westlands took control and a hat-trick for JAMES BUDDEN plus two from ADAM PULLEN made the game safe.
GOOD DAY FOR WESTLANDS
Saturday 13th December..........its a good day when both sides win and with the first team winning 5-4 at Blandford and the reserves winning 5-1 at home to Bere Regis it was smiles all round at the club this evening. At Blandford we were 5-2 up but lost a couple of late goals to make it a tight finish. Sports were always the better side and a hat-trick for LEO HAYWARD plus one each for JOSH PAYNE and LOUIS IRWIN clinched the points. Full match report
At Alvington the reserves won 5-1 against Bere Regis to keep the pressure on the league leaders. Scorers for Westlands were JAMIE BELL (2), MIKE ROUSELL, STEVE ROUSELL and JOE JARVIS.
OLD PHOTOS
Wednesday 10th December...........three new pictures, donated by Pete Smith, have been added to the photo archive today. The three are a team picture from 1975, one from 1979, and a unique picture of the Westlands/Herblay twinning match which took place at Westbourne Close in 1987. As usual, we can't recall some of the names so please let us know if you can fill in any of the blanks. The photos can be accessed via the 'Photos' tab. We know these old photos are sometimes treasured memories but if anyone has some from their Westlands playing days we would be delighted to be given the opportunity to scan them for the archive. Or alternatively, if you have a scanner you could just scan them and email them to alan@lamont99.plus.com